Summary
---
This is a breast model for observing the secretion of milk and learning hand expression techniques necessary for learning about breastfeeding support. Its shape assumes a breast in the early postpartum period, which is often encountered in clinical practice. It is a model that can be used not only for learning skills, but also for hands-on learning and for teaching pregnant and puerpera.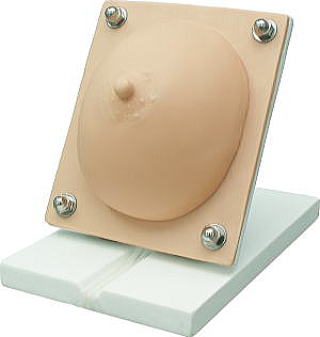 Features
---
It is possible to learn the appropriate finger position during hand expression, and the simulated milk secretion status changes depending on proficiency.
In order to learn how to observe the secretion status, there are two types of simulated milk, colostrum (yellow and high viscosity) and breast milk (white and low viscosity), and the number of lactiferous duct can be counted.
It is similar to the breast condition in the early postpartum period, and it is possible to experience inspection and palpation.
Because the breast itself is lightweight, it can also be used as a hands-on teaching material during breastfeeding guidance.
By using the base, it can be practiced in the standing position and supine position.
Injection and drainage routes are provided for easy cleaning.
Observing the secretion status of colostrum and breast milk.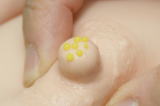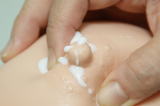 The secretion status changes depending on the proficiency level.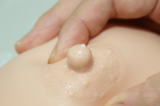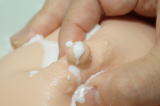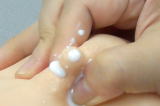 For guidance of puerperal women.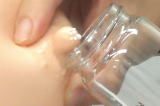 Hand expression movie
An example of usage
---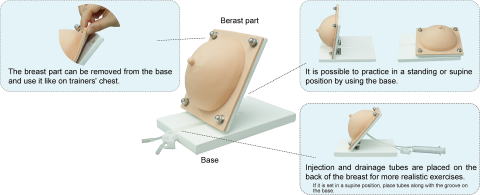 Image inside the breast
---

Specification
---
Breast part: <size> approx.240mm (h) x 150mm (w) x 85mm(t), <weight> approx.1.17Kg, <material> silicone, urethane sponge, polyacetal, stainless steel, brass, POM
Simulated colostrum : yellow color, high viscosity
Simulated breast milk : white color, low viscosity
Precautions for use
---
Be sure to use simulated milk sold separately.
Be careful not to allow the simulated milk to splatter on clothes and surroundings.
After use, pour out the simulated milk from lactiferous ducts, pumps and tanks immediately.
When not use for a long term, pour enough water into lactiferous ducts, pumps, tanks, and injection and drainage tubes, pour out simulated milk, and dry it by the connections part down.